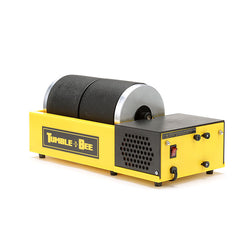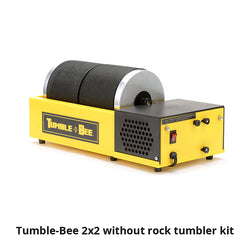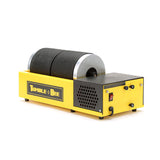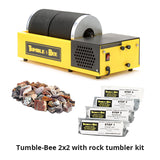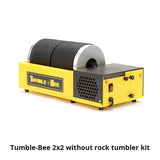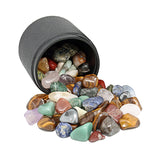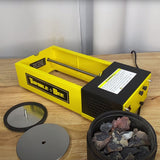 Tumble-Bee 2 x 2lb rock tumbler
SKU: TB-22
The Tumble-Bee 2×2 is a rotary rock tumbler that comes complete with two 2lb-capacity barrels. This model is a great choice for small scale tumbling needs and is the perfect size for professional tumbling of smaller material such as stones, glass and deburring and polishing metals. Two barrels allow you to tumble two different materials or use two different grits at once. It's also a great choice for two people to use at the same time. The Tumble-Bee 2×2 is available with an optional rock tumbler kit that includes TWO sets of all of the rock, grit and polish you need to successfully polish a batch of stones. It's a great starter kit for beginners and allows you to tumble right out of the box.

Included with the Tumble-Bee 2x2
Important purchasing note
Tumble-Bee rock tumblers are ONLY available in 115 volt power supply. They come with the standard U.S. plug.
International customers
We are not responsible for any import duties or customs charges. Any such fees incurred to receive your package are not covered by us. Please consult your country's customs policy for more information.
Non-slip timing belt The grooved design in the Tumble-Bee's timing belt prevents it from slipping off the pulleys, keeping your rock tumbler tumbling smoothly. It's also made of strong polyurethane with embedded polyester fibers to reinforce the belt's shape and to prevent the belt from splitting. Tumble-Bee is the only rock tumbler available on the market with this advanced feature.
Thermal overload protector Installed in every Tumble-Bee rock tumber, the thermal overload protector automatically shuts off the motor if it overheats, protecting you and your rock tumbler.
On/off power switch The lighted power switch easily indicates if the Tumble-Bee is on or off, preventing you plugging/unplugging before and after use. While this might seem like a no-brainer, many tumbler manufactures skimp on this simple feature.
Shielded moving parts The motor and pulleys are shielded with a motor cover for your safety.
Rust-proof housing The Tumble-Bee is made of a hard, composite plastic to prevent rusting and to eliminate sharp, metal edges.
Attractive design Not only is the Tumble-Bee a technologically advanced rock tumbler compared to other rock tumbler brands, but it's also the best looking rock tumbler available on the market (sorry if we sound biased, but it's true)!
Rock tumbler kit
Upgrade your Tumble-Bee rock tumbler with our rock tumbler kit! This kit includes TWO sets of all of the rock, grit and polish you need to successfully polish beautiful hand-picked stones using the Tumble-Bee 2x2 rock tumbler. Order this kit with your rock tumbler to start tumbling right out of the box.
Included with the rock tumbler kit
1-1/2lbs of properly-sized agates, jasper and petrified wood
Pre-measured coarse grit
Pre-measured medium grit
Pre-measured fine grit
Pre-measured TXP polish
Rock tumbler dimensions and weight
13" L X 6" W X 6" H, 6lbs